The Tufts Health Plan Senior Care Options Plan provides qualifed members with medical and prescription benefits along with a Primary Care Team, whose key goal is to improve the coordination of care members receive.

5-Star Plan: Eligible individuals can enroll any time! Learn More
Qualifying for our Senior Care Options Plan
In order to qualify for our Tufts Health Plan Senior Care Options Plan you must be at least 65 years of age or older and have both Medicare and MassHealth Standard coverage or just MassHealth Standard Coverage. Additionally, you can not have End Stage Renal Disease, reside in an intermediate care facility for mental health or a chronic or rehabilitation hospital as an inpatient at the time of your enrollment.
What is MassHealth Standard?
In Massachusetts the Medicaid program is called "MassHealth". "MassHealth Standard" is comprehensive health insurance for many different groups of people with low-income. In order to qualify when your are 65 years of age or over, you must have an income less than or equal to 100% of the Federal Poverty Guidelines.
Senior Care Options Plan Overview
With Tufts Health Plan Senior Care Options, members receive health care coverage under a single plan that coordinates and integrates all the services covered by MassHealth Standard (Medicaid) and Medicare. Members will have no out-of-pocket expenses for covered services and for prescription drugs in our formulary or select over-the-counter drugs prescribed by the member's doctor.

Also, in addition to the medical and prescription coverage, Tufts Health Plan Senior Care Options may provide coverage for community-based services like:
Personal care services
Social day care
Home delivered meals
Transportation to medical visits
And other additional community-based services you may qualify for and need
Some benefits you may receive include: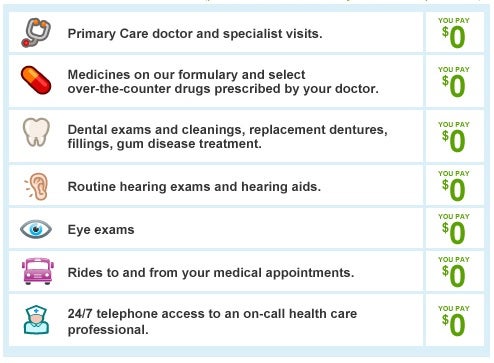 For additional benefit information please see the Summary of Benefits.
More About Care Management
At Tufts Health Plan Senior Care Options, you will be the center of a Primary Care Team. This team will meet with you to learn more about your specific needs and work with you, your family, and your doctor to create an Individualized Plan of Care. They'll help you get the support and services for which you qualify as your needs change.
Your Primary Care Team may include: you, your Primary Care Physician, your Care Manager, a Care Coordinator, your Specialists, a Geriatric Support Services Coordinator, and others, based upon your medical and social service needs.
Learn More & Enroll
Call us toll free to get answers and enroll.
1-855-670-5927 (TTY: 1-855-670-5940)
Tufts Health Plan Senior Care Options is a voluntary MassHealth benefit in association with the Executive Office of Health and Human Services, the state agency that oversees the state Medicaid program, and the Centers for Medicare and Medicaid Services, the federal agency that oversees the federal Medicare program.
Enrollment in Tufts Health Plan Senior Care Options is voluntary. There is a continuous enrollment and disenrollment period which means you can enroll or disenroll at any time.
Tufts Health Plan is an HMO plan with a Medicare contract and a contract with the Commonwealth of Massachusetts Medicaid program. Enrollment in Tufts Health Plan depends on contract renewal.
The HMO SNP is available to anyone who has both MassHealth Standard (Medicaid) and Medicare Parts A and B.
The SCO is available to anyone who has MassHealth Standard only
The benefit information provided is a brief summary, not a complete description of benefits. For more information, contact the plan. Benefits, formulary, pharmacy network, provider network, premium and/or co-payments/co-insurance may change on January 1 of each year. Limitations, copayments, and restrictions may apply.