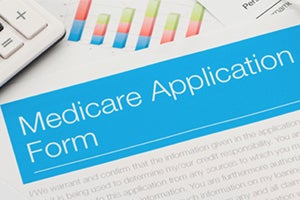 Original Medicare May Not Be Enough
While Original Medicare (Medicare Parts A & B) covers your hospital and medical expenses up to a point, you are liable for all additional costs associated with your care. Those costs are often unpredictable, and depending on the length of your stay or the cost of your procedure, may be significant. It is important to understand the limits of Medicare before deciding which option best fits your current medical and financial situation.
 
No Out-of-Pocket Cap on Medicare Costs
It's important to know that if you rely on just Original Medicare – Parts A and B – there will be no out-of-pocket spending maximums, or cap, on your Medicare costs.
Medicare Part A: Hospital Insurance
Monthly Premium
Typically $0
(If you or your spouse paid Medicare taxes while employed; otherwise $471)
Deductible
$1,484
per benefit period
Your Share
Hospital and skilled nursing facilities costs depend on your length of stay
Note: A benefit period starts when you enter the hospital or skilled nursing facility for an overnight stay and ends when you have been out for 60 days in a row. Since the Medicare Part A deductible applies to each benefit period (not annually), you can have multiple benefit periods in one year.
Hospital Stays
Days
1-60
You Pay
$0
Coinsurance for each benefit period
Days
61-90
You Pay
$371
Coinsurance per day of each benefit period
Days
91
and beyond
You Pay
$742
Coinsurance per each "Lifetime reserve day" for each benefit period (up to 60 days over your lifetime)
Days
Beyond Lifetime reserve days
You Pay
You pay all costs
Note: Inpatient psychiatric care in a freestanding psychiatric hospital is limited to 190 days in a lifetime. You must pay a $1,484 deductible per benefit period.
Skilled Nursing Facilities
Days
1-20
You Pay
$0
Coinsurance for each benefit period
Days
21-100
You Pay
$185.50
Coinsurance per day of each benefit period
Days
101
and beyond
You Pay
You pay all costs
Note: There is no out-of-pocket maximum.
Medicare Part B: Medical Insurance
Monthly Premium
$148.50
(depending on yearly income)
Your Share
You are responsible for
20%
of the costs of medical services under Medicare
(B)
Learn more about paying for Medicare
Medicare Service and Benefit Limitations
Original Medicare
Offered by the Federal Government
Part
A
Hospital Insurance
Covers hospital and nursing home stays, and hospice care.
What's Covered
Hospital expenses for inpatient hospital stays (e.g. meals, supplies, tests, accommodations) 
Skilled nursing facility care
Nursing homes
Hospice care
Some part-time, medically necessary home health care (physical, occupational, and speech therapy)
Some medical equipment (e.g. walkers and wheelchairs)
Prescription drugs taken as part of inpatient hospital or skilled nursing facility treatment
Part
B
Medical Insurance
Covers doctor services, outpatient hospital care, durable medical equipment, and other medical services.
What's Covered
Doctor office visits (primary care and specialists) 
Test & laboratory services
Outpatient care
Medical supplies & durable medical equipment
Ambulance & emergency services
Limited prescription drug coverage, including injections received in a doctor's office, certain oral cancer drugs, and certain drugs you get in a hospital outpatient setting 
You can see any Medicare provider, no referrals required
What's Not Covered
Routine eye exams & most eyeglasses 
Dental care & dentures (with only a few exceptions)
Outpatient prescription drugs prescribed by your doctor
Gym memberships or fitness classes
Weight management programs
Routing hearing tests
Custodial care (help with bathing, dressing, using the bathroom & eating) at home or in a nursing home
Long-term care (for information about paying for long-term care, visit longtermcare.gov or eldercare.gov
Acupuncture
Most chiropractic services
Most care while traveling outside the United States
---
How Do You Fill the Gaps
You can protect yourself against Medicare Part A and Part B coverage gaps and expenses by purchasing a Medicare Supplement Plan (often referred to as Medigap insurance) or a Medicare Advantage Plan (Medicare Part C), which often provides extra services, like vision and fitness coverage, not covered by Original Medicare.
Original Medicare Only
Medicare Advantage without Drug Plan
Medicare Advantage with Drug Plan
Original Medicare with Drug Plan
Medicare Supplement Plan without Drug Plan
Medicare Supplement Plan with Drug Plan
This chart is for illustrative purposes only and may not represent all potential coverage gaps.
 
---