COVID-19 At-Home Testing Coverage Information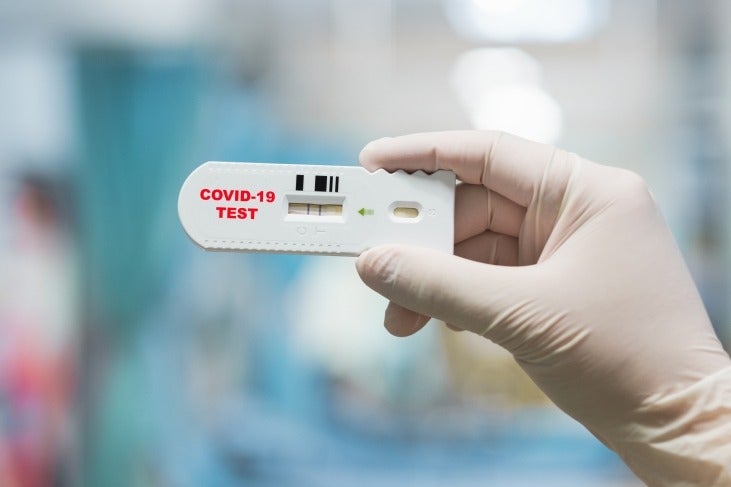 Last Updated: 01/09/2023
Free COVID-19 Testing
The Biden administration has developed a program where members of the public can order free at-home rapid COVID-19 tests. Visit www.covidtests.gov for more details on how to order the tests and the most up-to-date information on federal testing programs.
There is also a federal program to distribute at-home rapid tests to community health centers and Medicare-certified health clinics. Check with your local community health centers for more information.
In addition, state and local programs are in place for residents to search for and access free COVID-19 testing, including laboratory testing sites. Visit the Massachusetts COVID-19 testing resources website for the most up to date and accurate information and reach out to your local board of health, or your city or town website, for additional information.
Medicare is also providing coverage for at-home tests:
As of April 4, 2022, Medicare covers up to eight over-the-counter COVID-19 tests each calendar month, at no cost. This coverage continues until the end of the COVID-19 public health emergency (PHE), and is available to anyone with Medicare Part B, including those enrolled in a Medicare Advantage plan. 
You can get the Medicare-covered, over-the-counter COVID-19 tests at any pharmacy or health care provider that participates in this initiative. Just show your red, white, and blue Medicare card to get your free tests.
See a list of participating pharmacies
Get more information on Medicare coverage for at-home tests
2022 Tufts Health Plan COVID-19 at-home test reimbursements:
Reimbursement requests for Tufts Health Plan covered at-home tests purchased in 2022 must be received by March 31, 2023.
In 2022, Tufts Health Plan Medicare Advantage HMO plans provided coverage for up to eight over-the-counter, at-home COVID-19 tests per member, per 30 days. If you were a member of Tufts Health Plan Medicare Advantage HMO plans in 2022 and purchased eligible at-home tests out-of-pocket between February 1, 2022 and December 31, 2022, you can submit for reimbursement. Reimbursement forms can be printed here or requested from Member Services and mailed to us with copies of your receipts. Copies of your receipts are required for reimbursement. The form includes further instructions on how to submit for reimbursement.
You also have the option to submit for reimbursement online. If you purchased tests on or after February 15, 2022, you can submit for reimbursement directly through Caremark.com. Just log in to your account at caremark.com, click "submit at-home COVID-19 test reimbursement claim," and upload a photo of your receipt.
Coverage applied to tests approved by or granted Emergency Use Authorization (EUA) by the FDA and were intended for individualized diagnosis or treatment of COVID-19 (not for resale). The FDA continues to update their website with EUA tests here. 
Tests purchased through resellers (e.g., eBay, Facebook Marketplace) are not eligible for reimbursement.
Taxes, shipping and handling are not eligible for reimbursement.
Most reimbursement requests are processed within 60 calendar days. 
Reimbursement requests must be received by Tufts Health Plan by March 31, 2023.
Drug Search
Use the drug search tools to find out if your drugs are covered and which tier they fall under on your plan type.
Find a Doctor
Find a doctor within your Tufts Health Plan Medicare Preferred HMO network or your Tufts Health Plan Senior Care Options network.
Health Library A-Z
Tufts Health Plan has partnered with Healthwise to provide members with access to a library of high-quality content on conditions, treatments and more.