Teriyaki Salmon with Cauliflower Rice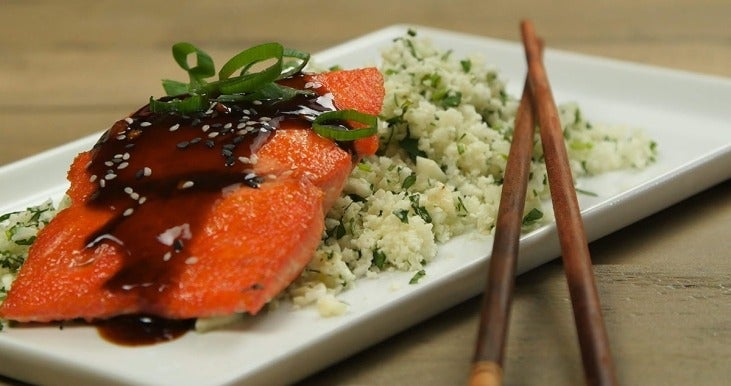 Easy enough to make on a weeknight but impressive enough to serve for company, you'll love this heart-healthy salmon recipe with fluffy cauliflower rice that soaks up the soy sauce.
Ingredients
Serves 4
2 tablespoon low-sodium soy sauce
1 tablespoon water
1 Tbsp. dry sherry or balsamic vinegar
1 tablespoon sesame oil
1 teaspoon white vinegar
1/2 teaspoon no-calorie sweetener (approx. 2 packets)
1 teaspoon fresh minced garlic (1 large clove)
1 teaspoon fresh, minced ginger (about a 2-inch piece)
4 (6-ounce) wild salmon fillets, skin removed
1 head cauliflower (roughly chopped)
1/2 white onion, peeled and roughly chopped
1 teaspoon canola oil
1/8 teaspoon salt
1 cup chopped, fresh cilantro leaves
1 teaspoon sesame seeds
2 scallions (finely chopped)
Directions
In a heatproof 8-inch by 8-inch baking pan, add the marinade ingredients: soy sauce, water, sherry, sesame oil, white vinegar, Splenda, garlic, and ginger. Use a fork to gently combine ingredients. Add salmon fillets on their side. Cover with foil and marinate in the refrigerator at least 1 hour and up to 24 hours.
When ready to cook the salmon, remove the fish from the fridge and preheat oven to 450 degrees F.
Meanwhile, trim and discard the leaves from the cauliflower. Roughly chop the cauliflower florets and the peeled onion. Add to the bowl of a food processor in batches, pulsing until the mixture resembles couscous. (The key to getting the correct consistency is to not overload the food processor.) Transfer mixture to a medium bowl until all the cauliflower rice has been made.
Place the baking pan with the salmon in the preheated oven and bake until salmon is almost fully cooked, about 10 to 12 minutes, depending on thickness. Increase the heat to broil (or turn on broiler) and broil the salmon another 2 to 4 minutes to brown. Fish is done when easily flaked with a fork.
Meanwhile, warm canola oil in a large nonstick pan over medium-high heat. Add cauliflower. Season with salt and, stirring frequently, cook until cauliflower mixture is tender, about 5 to 6 minutes. Remove from heat and stir in cilantro. Transfer cauliflower to a platter.
Use a spatula to transfer the salmon fillets onto cauliflower. Pour teriyaki sauce from the pan over the salmon. Garnish salmon with sesame seeds and scallions. Serve.
Recipe source: American Heart Association
Drug Search
Use the drug search tools to find out if your drugs are covered and which tier they fall under on your plan type.
Find a Doctor
Find a doctor within your Tufts Health Plan Medicare Preferred HMO network or your Tufts Health Plan Senior Care Options network.
Health Library A-Z
Tufts Health Plan has partnered with Healthwise to provide members with access to a library of high-quality content on conditions, treatments and more.