4 Ways to Stay Sun Safe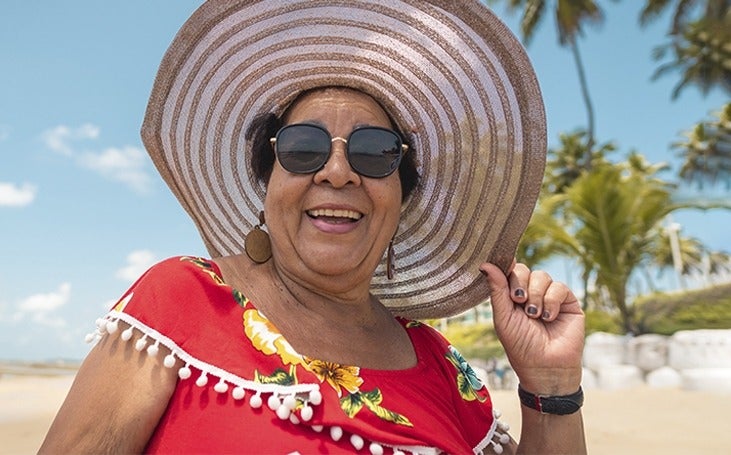 Who doesn't love a beautiful sunny day? But when having fun in the sun, it's important to protect your skin from sun damage.
What causes sun damage?
Sun damage is caused by invisible ultraviolet (UV) radiation. A sunburn is a type of skin damage, and tanning is the skin reacting to potentially damaging UV radiation by producing additional pigmentation that provides it with some—but often not enough—protection against sunburn.
In addition, exposure to the sun can cause skin aging (such as skin spots, wrinkles, or "leathery skin"), eye damage, and skin cancer, the most common of all cancers. People of all skin colors are at risk for this damage. According to the Skin Cancer Foundation, 1 in 5 Americans will develop skin cancer by the age of 70.
Two types of UV light are proven to contribute to the risk for skin cancer:
Ultraviolet A (UVA) has a longer wavelength and is associated with skin aging.
Ultraviolet B (UVB) has a shorter wavelength and is associated with skin burning.
4 ways to protect yourself
Avoiding the sun altogether isn't a practical solution. Getting outside is an important component to your physical and mental health. But these simple measures can help you stay safe while having fun in the sun:
1. Cover up
Clothing can help protect against the sun's UV rays. The more skin you cover, the better. Wearing a wide brimmed hat (three inches or more) helps shade your eyes, ears, face, and neck. When choosing clothing, look for the UPF (ultraviolet protection factor) rating on the label. The UPF number tells you what fraction of the sun's UV rays can penetrate the fabric – clothing with UPF 50 on the label allows just 1/50th of the UV radiation to reach your skin.
2. Apply – then reapply
Use sunscreen on uncovered skin. It's important to use sunscreen as directed in order for it to be effective. Make sure to read the label so you know how much to put on. In general, it's a good idea to apply liberally to all uncovered skin, especially your nose, ears, neck, hands, and feet. And reapply at least every two hours – more often if you're swimming or sweating. Look for sunscreens with a Sun Protection Factor (SPF) value of 15 or higher with 'broad spectrum' on the label, which indicates effective protection against two types of ultraviolet radiation, UVA rays as well as UVB. Also, while sunscreen isn't waterproof, look for sunscreen that is water resistant for 40 or 80 minutes to help protect you when swimming.
Tufts Medicare Preferred Saver Rx (HMO), Smart Saver Rx (HMO), and Access PPO plan members can use their OTC benefit to purchase sunscreen. Get more details on using the OTC benefit.
3. Stay on the shady side
Think of shade as a sun protection area, especially during the peak sunlight hours of 10 a.m. – 4 p.m. While not a perfect shield, shade can help protect you from the sun's rays. Walking on the shady side of the street, or sitting under an umbrella, awning, or tree can all help protect you.
4. Get the right specs
Do your sunglasses block 100% of both UVA and UVB rays? If not, it may be time to get a new pair. Too much UV light can cause cataracts. It can also destroy the retina, the lining at the back of your eyes that helps you see clearly. Check the label when picking out a new pair of sunglasses and look for ones that block 99-100% of UVA and UVB rays.
Tufts Health Plan Medicare Advantage HMO and PPO members can use their eyewear benefit to save on prescription sunglasses.