Beef and Rice Casserole
This delicious beef and rice dish, made with cabbage and black-eyed peas, works as an easy dinner year-round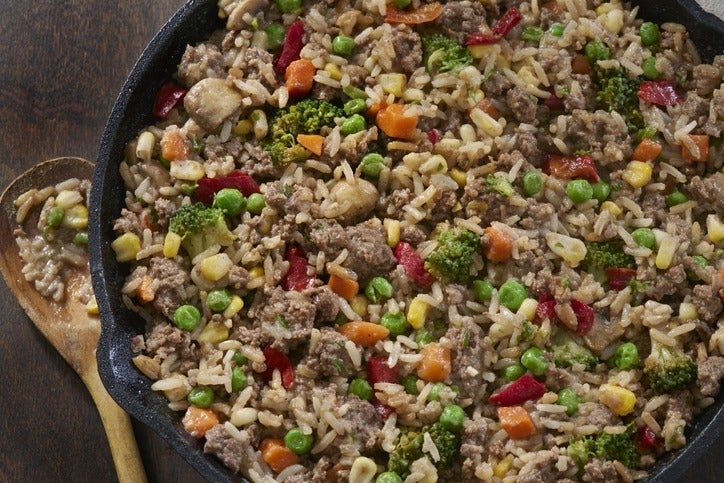 This delicious beef and rice dish, made with cabbage and black-eyed peas, works as an easy dinner year-round
Ingredients
Servings  8  
6 cups shredded cabbage – or you can save time by using 1 14-ounce package coleslaw mix
1 cup brown rice (uncooked)
1 pound extra-lean ground beef
1 10-ounce can diced tomatoes and green chiles
14 ounces fat-free, low-sodium beef broth
1 15.5-ounce can no-salt-added black-eyed peas, rinsed and drained (black-eyed peas can be substituted with any type of beans)
Pepper, to taste
Directions
Preheat the oven to 350°F.
In a large oven-proof pot, layer the cabbage, rice, beef, and tomatoes and green chiles. Pour the beef broth over all.
Cook, covered with aluminum foil or a lid, for 1 hour 40 minutes, stirring after 40 minutes. Continue cooking, covered, until the rice is tender and the liquid is absorbed. Stir in the black-eyed peas. Season with the pepper.
Recipe source: American Heart Association
Drug Search
Use the drug search tools to find out if your drugs are covered and which tier they fall under on your plan type.
Find a Doctor
Find a doctor within your Tufts Health Plan Medicare Preferred HMO network or your Tufts Health Plan Senior Care Options network.
Health Library A-Z
Tufts Health Plan has partnered with Healthwise to provide members with access to a library of high-quality content on conditions, treatments and more.