How to Conquer Oral Hygiene if You're Over 60
Oral hygiene is easy to ignore
According to the Centers for Disease Control and Prevention (CDC), 96% of older adults have had a cavity and 1 in 5 have untreated tooth decay. Yikes! That means many people are afraid of the dentist exam itself or getting bad news. Whatever the reason, your dentist is there to help and is trained to treat most oral conditions.
Your mouth provides clues about your overall health. Daily brushing and flossing keeps bacteria in your mouth under control. But poor oral hygiene can cause bacteria to increase, which may lead to gum disease. Besides leading to tooth loss, if left untreated, the bacteria found in gum disease can spread to your heart, which can increase your risk for heart disease and stroke.
Let's talk about gum disease
A staggering number of older adults, about 2 in 3, have gum disease. When plaque builds up along your gum line, gum disease makes itself at home. The plaque can lead to infections that affect the gum and bone that hold your teeth in place.
Symptoms of gum disease:
Tender and swollen gums
Gums that bleed easily during or after brushing and flossing
Bad breath
Shrinking gums
Sensitive teeth
Failing to address these symptoms can lead to more serious conditions such as infection, tooth decay, tooth loss, and even heart disease.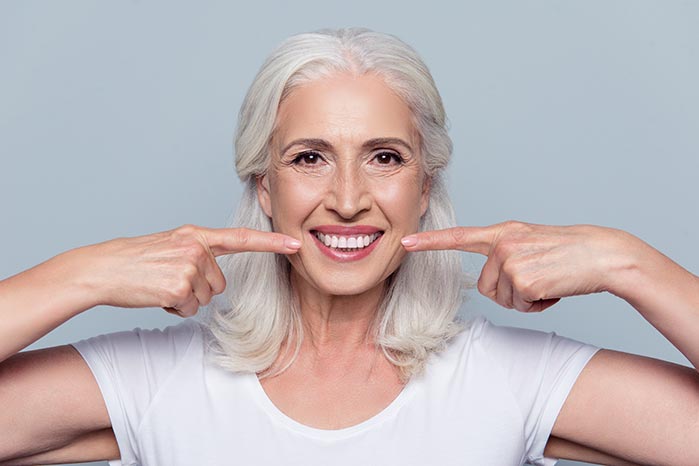 Oral hygiene to the rescue!
Now that you know what's at stake, don't wait to take action. The good news is that you can prevent and reverse many of the symptoms of gum disease by practicing proper oral hygiene:
Brush your teeth twice a day with fluoride toothpaste.
Floss once a day.
Visit your dentist regularly for a checkup and cleaning.
Eat a well-balanced diet.
Quit smoking. Smoking increases your risk for gum disease.
The truth about Medicare and dental care
When choosing a Medicare plan, it's important to understand the dental coverage available to you. Original Medicare does not cover most dental care, procedures, or supplies such as cleanings, fillings, etc. This is why it's vital to consider supplemental Medicare plans, such as a Medicare Advantage plan or a Medicare Supplement plan that includes the dental care you need. Find out more about Medicare and how it works, here. Or, browse dental plans here.
Want more health and wellness articles? Sign up to receive them directly to your inbox here!