The Health Benefits of Positivity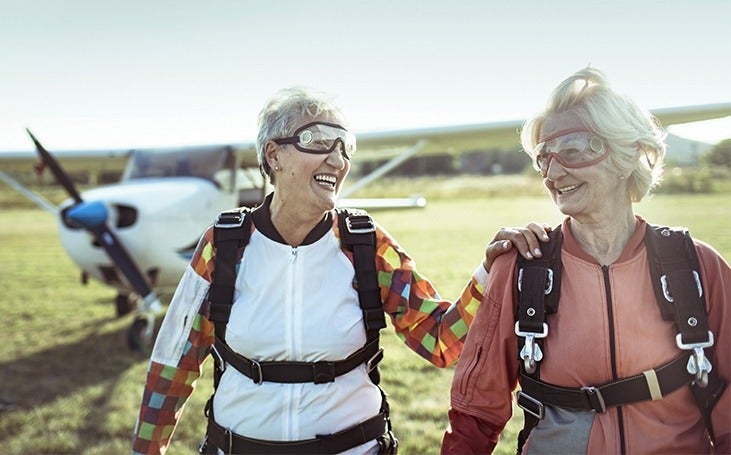 Is it possible that a smile a day will keep the doctor away—even during stressful times? Maybe so! Did you know that people with a positive outlook are more likely to live longer than those with a negative outlook?1 Or that people with a family history of heart disease who also have a positive outlook on life are one-third less likely to have a heart attack compared to those with a more negative outlook?2 It's true!
Positivity can improve your health
According to researchers, people with a positive outlook have better health and life satisfaction than those with a negative outlook. People who hold a positive outlook may be better protected against stress that can cause or worsen disease and illness. This is good news for people who often see possibilities and opportunities in most situations. But what if things are happening in your life or in the world that worry you? There are ways to bring more positive thinking and joy to your life—even when things are stressful.
6 ways to improve positivity
These strategies can help you jumpstart your positivity and improve your health:
Count the small stuff. Give yourself credit for the things you do right each day—no matter how small. For example, checking in on a neighbor living alone or helping a grandson with homework.
Turn a negative thought into a bright spot. We can change our mood and improve our wellness with positive thinking—even when we face challenges. By replacing negative thoughts with positive ones, we can turn a difficult experience into a learning experience. For example, when something disappointing happens in your life, tell yourself "This is a setback for me, but I can recover from it if I give myself time." This way of thinking can make you feel better, stronger, and more hopeful.
Smile more even if you don't feel like it. Experts at the University of Kansas found that smiling can reduce heart rate and blood pressure for people even under stress.
Volunteer for a cause you care about. There is evidence that volunteering can reduce depressive symptoms and create new social connections. Check with your local senior center for potential volunteering opportunities.
Solve problems. Problem solving can lift your hopes for the future even when times are tough. If you're not sure how to solve a problem on your own, finding someone who can help is a good start!
Create caring connections. Building up your community of friends is a good way to stay optimistic. Our communities are filled with friendships waiting to be kindled—we just need to reach out. Make a list of 3–5 people you want to meet in your community, neighborhood, or family and reach out with a phone call to get reconnected.
Take advantage of the power of positive thinking to bring you and your family better health, greater happiness, and more life satisfaction! 
If you are concerned you or someone you know may be struggling with depression, learn more here. 
1Source: www.pnas.org/content/116/37/18357.
2Source: www.ncbi.nlm.nih.gov/pmc/articles/PMC3788860.