Rustic Italian Tomato Soup
On a chilly evening, warm yourself with this hearty tomato soup.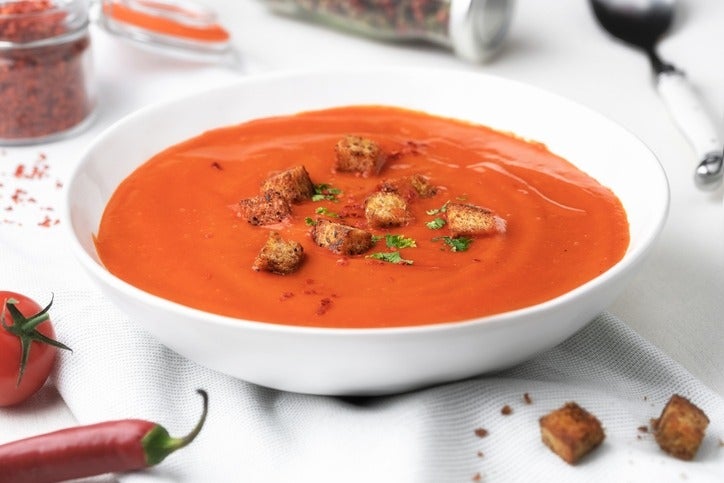 On a chilly evening, warm yourself with this hearty tomato soup.
Ingredients
Servings:  4  
16 oz. frozen mixed bell pepper strips (may be labeled "stir-fry mix")
14.5 oz. canned, no-salt-added diced tomatoes, undrained
1 3/4 cups fat-free, low-sodium chicken broth
1/2 can no-salt-added navy beans (drained, rinsed)
3 tbsp. chopped, fresh basil
2 tbsp. chopped, fresh parsley
1 tbsp. balsamic vinegar
1 medium garlic clove (minced)
1/2 tsp. dried oregano (crumbled)
1/8 to 1/4 tsp. crushed red pepper flakes
1 tbsp. olive oil (extra virgin preferred)
1/4 tsp. salt
Directions
In a food processor or blender, process the bell pepper strips, tomatoes with liquid, broth, beans, basil, parsley, vinegar, garlic, oregano, and red pepper flakes until slightly chunky or smooth.
Pour into a large saucepan.
Bring to a boil over high heat.
Reduce the heat and simmer, covered, for 20 minutes, or until the flavors are blended.
Remove from the heat.
Stir in the oil and salt.
Recipe source: American Heart Association
Drug Search
Use the drug search tools to find out if your drugs are covered and which tier they fall under on your plan type.
Find a Doctor
Find a doctor within your Tufts Health Plan Medicare Preferred HMO network or your Tufts Health Plan Senior Care Options network.
Health Library A-Z
Tufts Health Plan has partnered with Healthwise to provide members with access to a library of high-quality content on conditions, treatments and more.