Vietnamese Marinated Grilled Chicken with Corn-and-Avocado Salad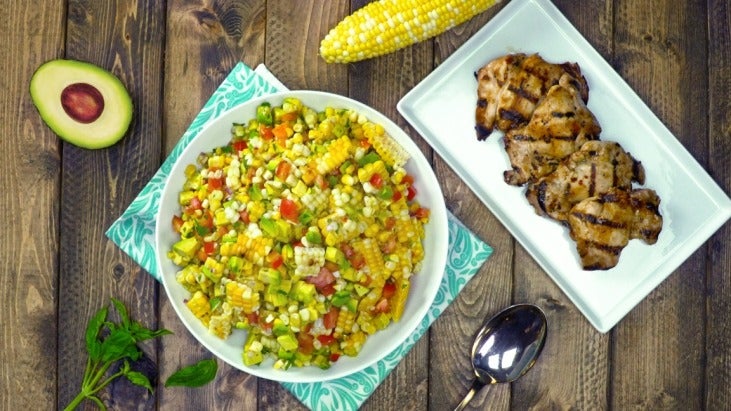 Vietnamese marinades feature many flavors, including sweet, sour, salty, and hot. In this recipe, honey, lime juice, soy sauce, and red pepper flakes are used to create a delicious, tangy chicken that is paired with a colorful salad overflowing with vegetables.
Servings 6
Serving Size 3 ounces chicken and 1 cup salad
1 1/2 pounds boneless, skinless chicken thighs (all visible fat discarded)
Marinade Ingredients
3 tablespoons honey
3 tablespoons fresh lime juice
3 tablespoons soy sauce (lowest sodium available)
2 tablespoons canola or corn oil
2 teaspoons minced garlic
1 teaspoon ground ginger
1/2 teaspoon crushed red pepper flakes (optional). (You can use the full 1/2 teaspoon of red pepper flakes or scale it back to suit your taste.)
Salad Ingredients
6 large ears of corn, husks and silk discarded
2 medium avocados (halved, pitted, diced)
2 medium tomatoes, chopped (about 2 cups)
3/4 cup finely chopped fresh basil
2 tablespoons chopped red onion
1 tablespoon canola or corn oil
1 tablespoon plain rice vinegar or white vinegar
1/4 teaspoon salt
1/8 teaspoon black pepper
Directions
In a shallow glass dish, whisk together the marinade ingredients. Add the chicken, turning to coat. Cover and refrigerate for 4 to 24 hours, turning occasionally.
When the chicken has marinated, preheat the grill on medium high. Drain the chicken, discarding the marinade. Let the chicken stand at room temperature for 15 minutes.
Meanwhile, wrap each ear of corn in heavy-duty aluminum foil.
Grill the corn for 15 to 20 minutes, or until tender, turning occasionally. Remove from the grill. Let cool. Using potholders, carefully remove the corn from the foil.
Meanwhile, grill the chicken for 5 minutes on each side, or until it registers 165°F on an instant-read thermometer.
When the corn is cool enough to handle, using a knife, cut off the kernels from each cob. Transfer to a large bowl.
Stir in the remaining salad ingredients, tossing gently to combine.
Serve the salad with the chicken.
If you don't feel like grilling, you can use the oven instead. Preheat the oven to 400°F. Put the oven rack at the top level. Place a wire rack on a baking sheet. Roast the chicken on the wire rack for 20 minutes on each side, or until it registers 165°F on an instant-read thermometer. Place the foil-wrapped corn on a separate baking sheet. Roast the corn for 20 to 25 minutes, or until tender.
Source: American Heart Association
Drug Search
Use the drug search tools to find out if your drugs are covered and which tier they fall under on your plan type.
Find a Doctor
Find a doctor within your Tufts Health Plan Medicare Preferred HMO network or your Tufts Health Plan Senior Care Options network.
Health Library A-Z
Tufts Health Plan has partnered with Healthwise to provide members with access to a library of high-quality content on conditions, treatments and more.