How Your Care Management Team Helps You Stay Healthy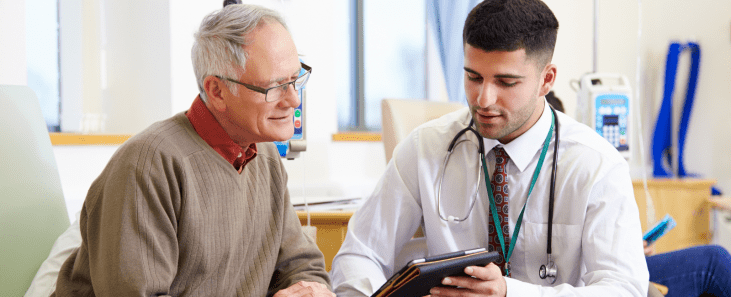 As a Tufts Health Plan member, you have access to our Care Management team, which consists of health experts who assist in coordinating care and managing any health or social concerns. Our experts can help if you get sick, have an injury or social need like food or transportation, or are looking for ways to stay healthy.
The team includes nurse Care Managers, social workers, and other health professionals who work closely with your primary care provider (PCP) to guide you or your caregiver through the health care system, improve your health and well-being, and more.
As a member, there is no cost for you to work with our Care Management team. Here are 8 ways we can help:
In Your Corner

Health care can be overwhelming. Our Care Management team makes sure you or your caregiver understands your options, and helps you get the services and care that you need. We'll be by your side whether you're at home, in your doctor's office, at the hospital, or anywhere else in your community. 

At-Home Recovery

If you are hospitalized, we help make your transition home easier. We can make sure you receive the right services to prevent return trips to the hospital, including getting care at home if you need it and making follow-up appointments with your doctor. We can even assist you in getting your home assessed for any safety issues. 

Healthy Living 

We don't help only if you're sick or injured. We offer support if you're looking to start an exercise program, improve your diet, or set new health goals.

Chronic Condition Management 

If you have a condition such as diabetes, heart failure, or depression, we can help you learn to manage your illness and access the services and resources you need.

Medication Assistance

We're here if you need help managing your medications or have concerns about affording your prescriptions.

Complex Assistance

If you have multiple chronic conditions or need more support to manage your health, we can work closely with you and your doctors to make sure you have the resources you need. We also help you or your caregiver coordinate your health care services, simplifying the process for everyone.

Social Needs Support

We can provide assistance if you have concerns about food, housing, or transportation to medical appointments or the pharmacy.

Dementia Care

If you or a loved one has concerns about memory loss or dementia, we can help answer questions, assess care needs, provide care planning, and assist with referrals to community resources, support groups, and education programs.
Drug Search
Use the drug search tools to find out if your drugs are covered and which tier they fall under on your plan type.
Find a Doctor
Find a doctor within your Tufts Health Plan Medicare Preferred HMO network or your Tufts Health Plan Senior Care Options network.
Health Library A-Z
Tufts Health Plan has partnered with Healthwise to provide members with access to a library of high-quality content on conditions, treatments and more.