It's Never Too Late to Stop Smoking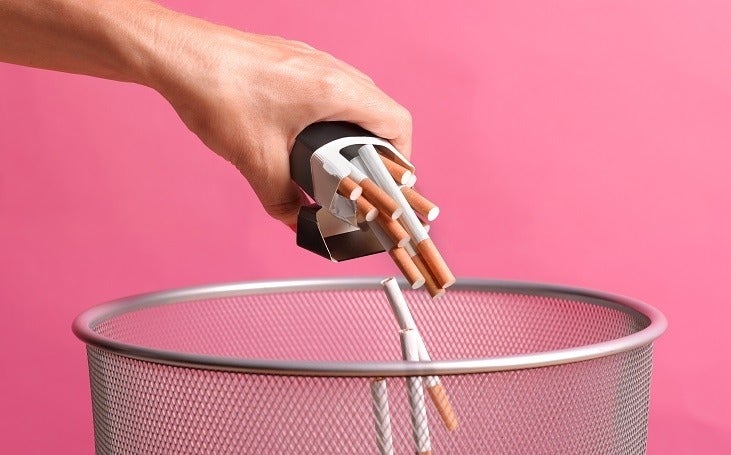 You probably already know that a good way to improve your health is to quit smoking. Smoking puts you at risk for many serious conditions that can shorten your life — yet many find it difficult to quit. That's why Tufts Health Plan offers programs and resources to help.
Why quit now?
As an older adult, you may believe that stopping now won't do you any good. But that's not true. You can benefit from quitting smoking at any age. The body begins recovering as soon as you stop — even if you've smoked for years.
Improve your health
By quitting you can:
Lower your risk for lung and other types of cancer
Reduce your risk for heart disease and stroke
Reduce your risk of developing or worsening chronic obstructive pulmonary disease (COPD), one of the leading causes of death in the United States
You can also:
Improve your sense of taste and smell
Save money
Avoid exposing loved ones to secondhand smoke
How to Quit
The first step is to make a firm decision to quit and pick a definite date to stop. Then you can make a clear plan for how you will go about quitting by that date.
You might ask a friend to quit with you, or join a support group. Some people use nicotine replacement products to help them quit. No matter how you decide to quit, the key is sticking to your plan — and you may need extra help to achieve this major step towards better health.
Get Support
You don't have to navigate the quitting process alone. We can help you break the addiction to nicotine.
Cessation Counseling — Tufts Health Plan offers members coverage for two counseling quit attempts within a 12-month period, with each attempt including up to four face-to-face visits.1
Over-the-Counter (OTC) Nicotine Replacement Products — Saver Rx, Smart Saver Rx, and Access PPO plan members can use their OTC benefit of $60 per calendar quarter toward Medicare-approved over-the-counter nicotine replacement products. Members can visit thpmp.org/order-otc or Walmart.com to place an order with their OTC cards.

Additional resources to help you quit
The Massachusetts Department of Public Health offers counseling through the Massachusetts Tobacco Cessation and Prevention Program (MTCP). The program's goal of reducing tobacco and nicotine use includes assistance in helping current smokers quit.
Programs are available online, over the phone, and through text and email. To get started, visit
mass.gov/take-the-first-step-toward-a-nicotine-free-life, or call 1-800-QUIT-NOW (1-800-784-8669).
1Applicable cost-sharing applies if you use tobacco and have been diagnosed with a tobacco-related disease or are taking medicine that may be affected by tobacco. For details, see the Evidence of Coverage (EOC) for your plan at tuftsmedicarepreferred.org/documents.
Drug Search
Use the drug search tools to find out if your drugs are covered and which tier they fall under on your plan type.
Find a Doctor
Find a doctor within your Tufts Health Plan Medicare Preferred HMO network or your Tufts Health Plan Senior Care Options network.
Health Library A-Z
Tufts Health Plan has partnered with Healthwise to provide members with access to a library of high-quality content on conditions, treatments and more.