Old-Fashioned Vegetable Barley Soup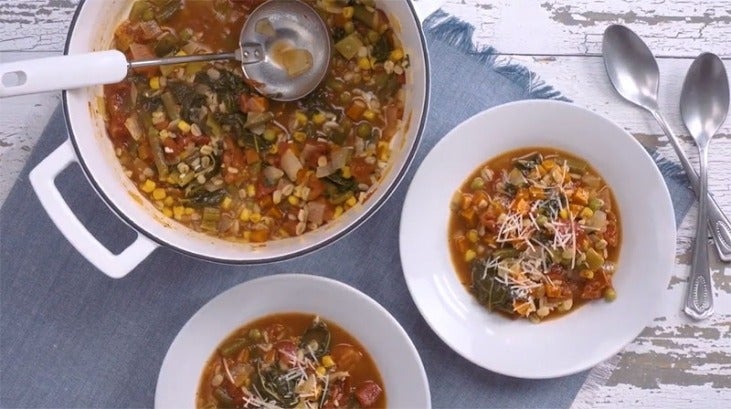 Perfect on a cold day, this quick and easy vegetarian soup, packed with vegetables and a whole grain, can be on your table in about 30 minutes.
Ingredients
4 Servings | Serving Size 1 1/4 cups
Cooking spray
1 teaspoon olive oil
1/2 medium onion, chopped
1 medium stalk of celery, chopped
1 medium garlic clove, minced
1 14.5 ounce can no-salt-added diced tomatoes, undrained
1 1/2 cups frozen mixed vegetables
1 1/2 cups low-sodium vegetable broth
1 cup chopped kale (Look for bags of washed and chopped kale in the produce section of your supermarket.)
1/2 cup water
1/4 cup uncooked quick-cooking barley
1/2 teaspoon dried basil, crumbled
1/2 teaspoon dried oregano, crumbled
1/8 teaspoon pepper
1 tablespoon plus 1 teaspoon shredded or grated Parmesan cheese
Directions
Lightly spray a large Dutch oven with cooking spray. Add the oil, swirling to coat the bottom. Cook the onion and celery over medium-high heat until golden, about 3 minutes, stirring occasionally. Add the garlic and cook for 10 seconds. Stir in the remaining ingredients except the Parmesan. Bring to a boil over medium-high heat. Reduce the heat and simmer, covered, for 10 to 12 minutes, or until the barley is cooked.
Ladle into soup bowls. Sprinkle with the Parmesan
Source: American Heart Association
Drug Search
Use the drug search tools to find out if your drugs are covered and which tier they fall under on your plan type.
Find a Doctor
Find a doctor within your Tufts Health Plan Medicare Preferred HMO network or your Tufts Health Plan Senior Care Options network.
Health Library A-Z
Tufts Health Plan has partnered with Healthwise to provide members with access to a library of high-quality content on conditions, treatments and more.