Protect Yourself Against Fraud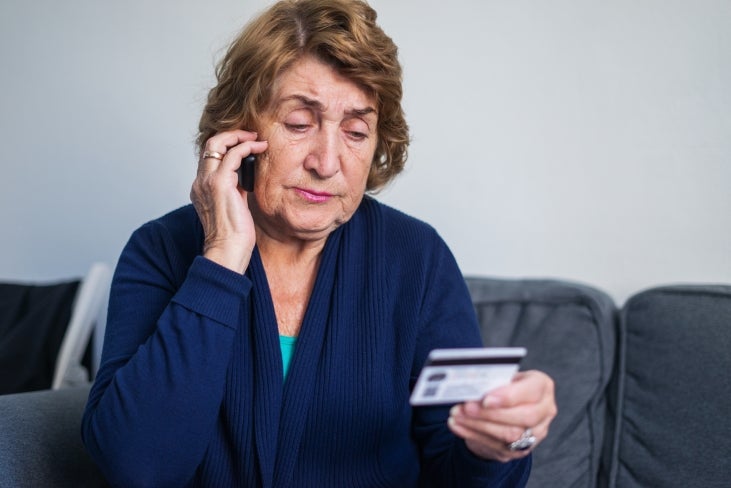 Unfortunately, there are many types of scams that specifically target older adults. But knowing what to watch for and how to report a suspected scam can help you protect yourself and your money.
Keep your identity safe
To protect your identity, be wary of anyone who calls to ask for your Social Security Number, banking account number, or Medicare or health plan number. Medicare and Tufts Health Plan will not call to ask for banking or Social Security information. If you are concerned that a call may not be legitimate, call the Tufts Health Plan Fraud Hotline at 1-877-824-7123 to inquire about the call before giving out your information.
Protect your personal information online
Medicare members may be encouraged to provide personal information over the internet or telephone in exchange for "free" medical testing (such as a genetic test for cancer), medical equipment (such as a knee or back brace), supplies (such as diabetic test strips), or medication (such as pain creams). Some online pharmacies promise discounted or free medications, but most are not safe or legal. Many of these links are designed to steal your personal information.
If you believe you would benefit from a test, service, medication, or piece of medical equipment offered online, on television, or over the telephone, talk to your PCP and other clinicians who provide your regular care.
Know what you ordered
If you receive medical supplies that you or your doctor did not order, or you receive more than you ordered, you might be the target of a fraud scheme. Remember to refuse or return any medical supplies you didn't order and report any companies that send these items to you. Medicare does not sell or mail medical supplies.
Make sure you are billed correctly
When you get a bill, check to make sure everything looks correct. Make sure you received the services or items billed, and make sure the same service has not been billed more than once.
Use our Fraud Hotline to report concerns
If you have any concerns or complaints about possible fraud, you can call the Tufts Health Plan Fraud Hotline 24 hours a day, 7 days a week at 1-877-824-7123. The Fraud Hotline helps to answer questions, concerns, or complaints about possible health care fraud. You can choose to give your name or remain anonymous, and reporting any concerns will not affect your right to health care coverage and services.
Watch out for these common schemes
According to the FBI, these scams are often used to target older adults:
Government impersonation scam: Criminals pose as government employees and threaten arrest unless they receive immediate payment
Romance scam: Criminals pose as interested romantic partners on social media or dating websites
Tech support scam: Criminals pose as technology experts and offer to fix nonexistent computer issues to gain access to sensitive information
Grandparent scam: Criminals pose as a relative, such as a grandchild, claiming to be in immediate financial need
Home repair scam: Criminals charge homeowners in advance for home improvement services that are never provided
Family/caregiver scam: Acquaintances promising care in exchange for money deplete a joint savings account
Drug Search
Use the drug search tools to find out if your drugs are covered and which tier they fall under on your plan type.
Find a Doctor
Find a doctor within your Tufts Health Plan Medicare Preferred HMO network or your Tufts Health Plan Senior Care Options network.
Health Library A-Z
Tufts Health Plan has partnered with Healthwise to provide members with access to a library of high-quality content on conditions, treatments and more.