Slow Cooker Harvest Beef Stew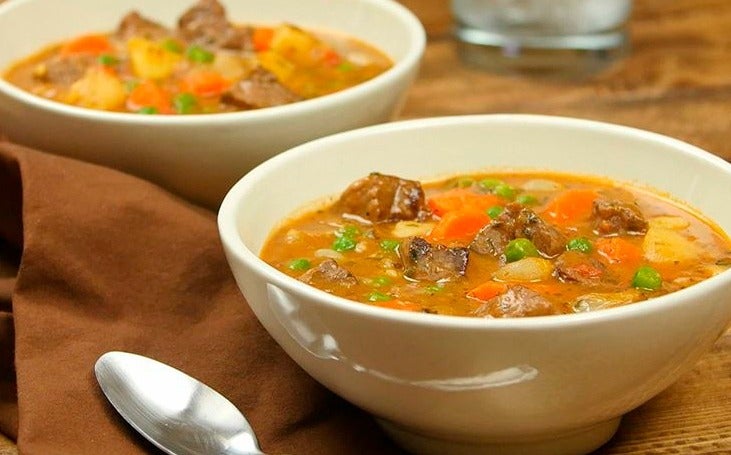 Let the slow cooker do all the heavy work for you with this recipe for a delicious stew, perfect for a cold winter's day.
Ingredients
6 Servings | Serving Size 2 cups
1 pound bottom round beef roast (cut into 1-inch cubes). If you can't find bottom round beef roast use another lean cut of beef like bottom eye roast or top round. You can also use stew meat, but be sure it's lean.
1 large russet potato, cut into 1/2-inch dice (about 2 cups)
1/4 cup all-purpose flour
1 medium sweet potato, cut into 1/2-inch dice (about 2 cups)
2 cups peeled, thinly sliced carrots
1 10-ounce package frozen pearl onions
1 14.5 ounce can no-salt-added diced tomatoes, undrained
1 14.5-ounce can fat-free, low-sodium beef broth
1  cup water
3/4 teaspoon dried thyme
1/2 teaspoon ground pepper
1 10-ounce package frozen peas
2 tablespoons dried parsley
Directions
Add the beef, russet potato, and flour to a 4- to 6-quart slow cooker, stirring well to combine.
Add the sweet potato and carrots to the slow cooker. Top with the onions, tomatoes, broth, water, thyme, and pepper.
Cook, covered, for 10 to 12 hours on low heat or 5 to 6 hours on high heat. Just before serving, quickly stir in the peas and parsley. Re-cover. Cook for 5 to 10 minutes.
When using your slow cooker, make sure the food that takes the longest time to cook, such as the beef, potatoes, and carrots in this recipe, are on the bottom, which is closest to the heat source.
Source: American Heart Association
Drug Search
Use the drug search tools to find out if your drugs are covered and which tier they fall under on your plan type.
Find a Doctor
Find a doctor within your Tufts Health Plan Medicare Preferred HMO network or your Tufts Health Plan Senior Care Options network.
Health Library A-Z
Tufts Health Plan has partnered with Healthwise to provide members with access to a library of high-quality content on conditions, treatments and more.