Spaghetti Pesto and Zucchini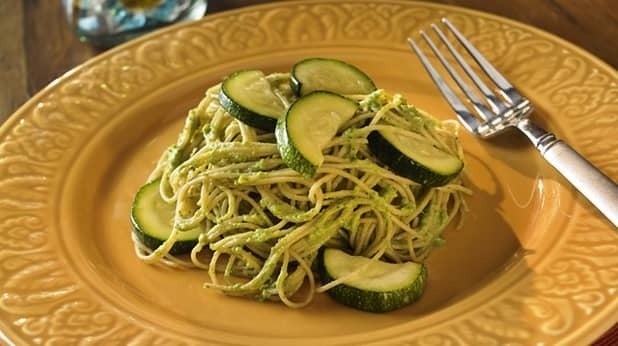 Spaghetti Pesto and Zucchini
Enjoy this summer-inspired pesto and pasta dish, which takes advantage of one of the season's most plentiful garden vegetables.
Ingredients
Servings  6
Serving Size   2 1/2 cups
Cooking spray
4 medium zucchini, chopped (about 8 cups)
12 ounces whole-wheat spaghetti
2 cups tightly packed fresh basil, spinach, arugula, or mint
1 garlic clove, minced OR 1 teaspoon jarred minced garlic
2 tablespoons unsalted walnuts or almonds
2 tablespoons fat-free, low-sodium chicken broth and 1 to 2 tablespoons fat-free, low-sodium chicken broth as needed
1 1/2 tablespoons extra-virgin olive oil or canola oil
1 1/2 tablespoons shredded or grated Parmesan cheese
1/4 teaspoon salt
1/8 teaspoon pepper
Directions
Lightly spray a large skillet with cooking spray. Cook the zucchini over medium-high heat for 10 to 12 minutes, or until tender.
Meanwhile, prepare the pasta using the package directions, omitting the salt. Drain in a colander, reserving 1/4 cup pasta water.
In a food processor or blender, process the basil, garlic, walnuts, 2 tablespoons broth, oil, Parmesan, salt, pepper, and 2 cups zucchini for 1 minute, or until well blended. Add 1/2 tablespoon broth for a thinner consistency. Process for 30 seconds. Repeat until the desired consistency.
In a large bowl, stir together the pasta, pesto, and 1 tablespoon reserved pasta water. One tablespoon at a time, add the remaining pasta water until the desired consistency.
Top with the remaining zucchini.
Source: American Heart Association
Drug Search
Use the drug search tools to find out if your drugs are covered and which tier they fall under on your plan type.
Find a Doctor
Find a doctor within your Tufts Health Plan Medicare Preferred HMO network or your Tufts Health Plan Senior Care Options network.
Health Library A-Z
Tufts Health Plan has partnered with Healthwise to provide members with access to a library of high-quality content on conditions, treatments and more.