Tips for Eating Healthy During the Holidays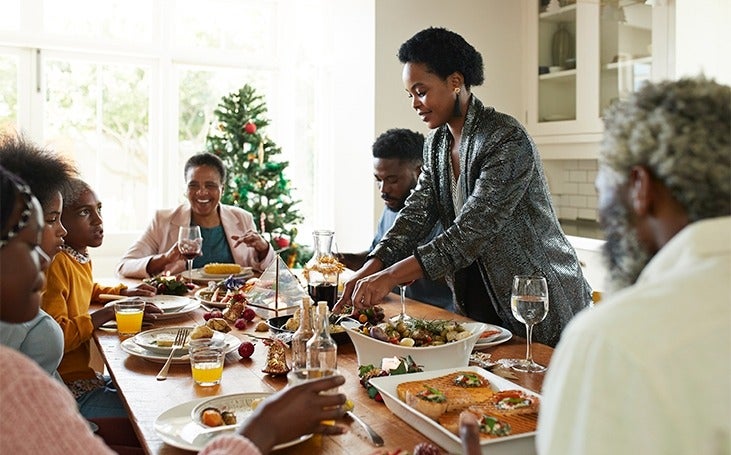 With the holiday season comes festive celebrations almost always involving food. Lots of food. You don't need to deprive yourself of delicious food. Eating healthy during the holidays is a challenge but having a plan in place before the holidays begin can help.
10 Holiday Eating Tips
Be selective – Spend your calories wisely on the foods you love instead of trying everything
Pause before seconds – It takes a few minutes for your brain to signal to your stomach that you are full. Try to take a 10-minute break before going back for seconds.
Take a stand - Standing next to the food at a party can make you more likely to snack without thinking about it. Try to physically distance yourself from the food table.
Don't go empty - Make sure to eat something before attending a party so you don't arrive needing to eat right away.
Be careful with alcohol – alcohol increases your appetite and reduces your ability to control what you eat.
Veg out – Veggies are a great go-to snack at home or at a party
Make it healthy - Whether cooking for yourself at home or bringing a dish to a gathering, make it healthier by limiting your use of salt, butter and other ingredients high in saturated fat
Remember what is most important – while food is an important part of the holidays focus on family and friends
Stay active – physical activity is important all year long but during the holidays staying active can help you counteract the additional eating and help you reduce stress.
  Get your rest – Not getting enough sleep can make you more likely to crave high-fat, high-sugar food. Try to get 7-8 hours of sleep each night to help protect against mindless eating.
Get more details on the importance of good nutrition.
Drug Search
Use the drug search tools to find out if your drugs are covered and which tier they fall under on your plan type.
Find a Doctor
Find a doctor within your Tufts Health Plan Medicare Preferred HMO network or your Tufts Health Plan Senior Care Options network.
Health Library A-Z
Tufts Health Plan has partnered with Healthwise to provide members with access to a library of high-quality content on conditions, treatments and more.