Your Hearing Aid Benefit Can Save You Thousands!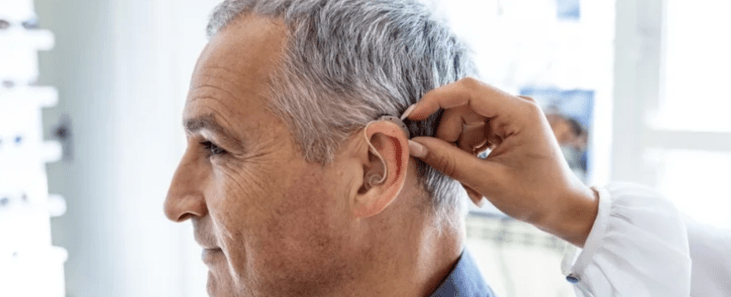 Many  people slowly lose their hearing as they age. According to the National Center for Health Statistics, almost half of people 75 or older have disabling hearing loss. As you age, you may have trouble hearing high-pitched sounds or following a conversation due to background noise.

Signs of hearing loss include:
Difficulty hearing people around you
Frequently asking people to repeat themselves
Difficulty hearing in noisy areas
Certain sounds seeming overly loud

Don't wait!
If you have difficulty hearing, talk to your doctor about having a hearing test. Your doctor can help determine if your hearing loss is related to normal aging, a medical condition, or a medication you may be taking. There are many ways to improve your hearing, including using hearing aids.

Hearing aid benefit can save you thousands!
As a Tufts Health Plan Medicare Advantage HMO or Access PPO member, you are covered for up to two hearing aids (one per ear) per year through Hearing Care Solutions (HCS) — a national program with over 4,000 locations that simplifies hearing care by offering fixed, discounted prices on hearing aids.

There are five levels to choose from:
Standard Level: You pay a $250 copay for each hearing aid
Superior Level: You pay a $475 copay for each hearing aid
Advanced Level: You pay a $650 copay for each hearing aid
Advanced Plus Level: You pay a $850 copay for each hearing aid
Premier Level:  You pay a $1,150 copay for each hearing aid
You're also covered for a $0 hearing aid evaluation once per year with an HCS provider.

How to use your hearing aid benefit
HCS  will schedule a hearing exam for you and answer any questions you have about hearing aids and pricing.
Step 1 – Call HCS at 1-866-344-7756 (TTY: 711), Mon.–Fri., 8 a.m.–8 p.m. to set up a hearing aid evaluation with a Hearing Care Solutions provider.
Step 2 – Evaluation: At your $0 hearing aid evaluation appointment, an audiologist will do a hearing exam and assessment. If hearing aids are needed, the audiologist will help you select the right ones from a variety of models. Copays range from $250 to $1,150 per hearing aid, depending on the models selected. HCS will contact you about payment before the hearing aids are delivered.
Step 3 – Fitting: An appointment to fit your hearing aids will be scheduled with the audiologist. This appointment has a $0 copay. At this appointment, your audiologist will make sure your hearing aids fit properly and will also schedule a follow-up appointment to see how you are adjusting to the hearing aids. There is no copay for the follow-up appointment.
Step 4 – 60 days to decide: You have 60 days to decide if you want to keep the hearing aids. If you keep the hearing aids after 60 days, HCS will send you a year's supply of batteries. (You will receive a year's supply of batteries each year for three years.)

If you have any issues with your hearing aids, you are eligible for follow-up  visits with your audiologist during the first year. Follow-up visits have a $0 copay.

If you have any questions, contact Hearing Care Solutions:

This benefit is offered through Hearing Care Solutions. Benefit described applies to Tufts Health Plan Medicare Advantage HMO and Access (PPO) members. Benefit details and savings may be different or not apply if you receive your benefits from a current or former employer. If a hearing exam is performed at the same time as the hearing aid evaluation, a copayment may apply. For complete details, see your Evidence of Coverage.
Drug Search
Use the drug search tools to find out if your drugs are covered and which tier they fall under on your plan type.
Find a Doctor
Find a doctor within your Tufts Health Plan Medicare Preferred HMO network or your Tufts Health Plan Senior Care Options network.
Health Library A-Z
Tufts Health Plan has partnered with Healthwise to provide members with access to a library of high-quality content on conditions, treatments and more.