Buffalo White Bean Hummus with Oven Baked Sweet Potato Chips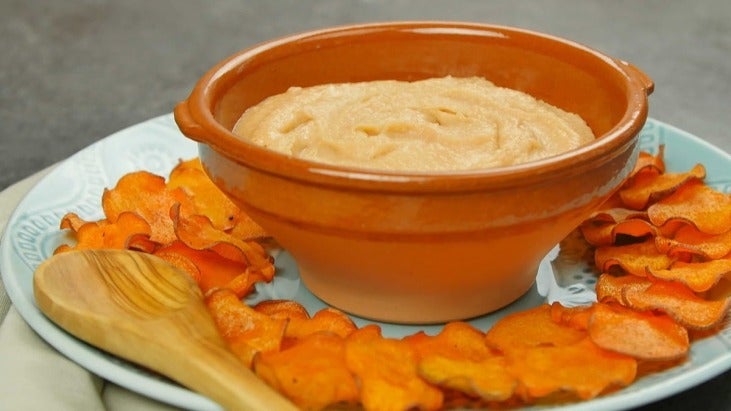 A mandoline—or a spiralizer in a pinch—is needed to get the sweet potato slices ultra-thin to turn into chips. These crisp slivers of sweet potato are dunked into a white bean hummus spiked with Buffalo hot sauce.
Servings 6
Ingredients
For the sweet potato chips:
2 sweet potatoes (thinly sliced)
1 tablespoon canola oil
1/4 teaspoon black pepper For the white bean hummus:
1 can no salt added cannellini beans (divided, rinsed)
2 tablespoon water
2 tablespoon lowest sodium available Red Hot Cayenne Pepper Sauce (divided)
1 tablespoon canola oil
Directions
For the sweet potato chips:
Preheat oven to 400°F.
Using a mandoline, carefully slice the sweet potato into chip-like thin rounds. Place in a bowl with oil and pepper; stir to combine.
Line two large baking sheets with foil and coat with cooking spray. Divide sweet potatoes between the baking sheets, spreading the pieces out so they are in one layer and chips aren't overlapping each other. 
Bake in the oven until chips just begin to brown, about 20 minutes. Turn off the oven and let the chips sit in the oven for 10 minutes to continue to crisp. Transfer chips to a bowl and let cool slightly.
For the white bean hummus:
Into the bowl of a food processor, add drained cannellini beans, water, 1 tablespoon hot sauce, and canola oil. 
Purée until the mixture is smooth, about 30 seconds to 1 minute.
Transfer bean puree to a bowl. Top with remaining 1 tablespoon hot sauce and gently stir to swirl the hot sauce on top. Serve with sweet potato chips.
Helpful Tips
Don't have a mandoline to slice the sweet potatoes? A food processor with a slicer attachment can work or even the slicer attachment on the spiralizer.
Sweet potato chips can also be mastered in the microwave. Place the sweet potato slices onto a paper towel in one layer; experiment and cook anywhere from 5 minutes to 10 minutes, depending on the power of the microwave. Once you know the exact time needed to create the chips in your microwave, they can be created anytime desired.
A variety of other beans can be subbed for the cannellini—great northern beans, navy beans, or even butter beans.
Source: American Heart Association
Drug Search
Use the drug search tools to find out if your drugs are covered and which tier they fall under on your plan type.
Find a Doctor
Find a doctor within your Tufts Health Plan Medicare Preferred HMO network or your Tufts Health Plan Senior Care Options network.
Health Library A-Z
Tufts Health Plan has partnered with Healthwise to provide members with access to a library of high-quality content on conditions, treatments and more.