Jerk Tilapia Fish Tacos with Zoodle Slaw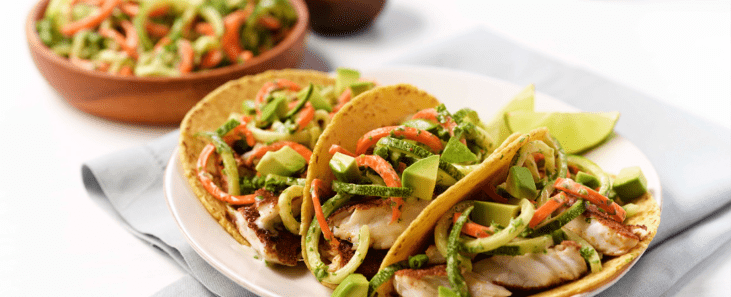 A zucchini slaw is a refreshing and unique twist for this Mexican fish taco recipe, which packs a wallop of flavor while also hitting all the healthy criteria.

For a quicker recipe preparation, use pre-shredded "zoodles" and carrots. Make sure to assemble each taco one at a time; the corn tortillas get too soggy if tacos are assembled in advance. For more of a spicy pop in the jerk seasoning, increase the cayenne pepper. Use the remaining seasoning for pork chops, boneless chicken breasts, or even other fish like salmon.

Ingredients
Servings  4

Jerk Seasoning Ingredients
1/4 teaspoon ground black pepper
1/4 teaspoon ground cayenne (or more for a spicier pop)
3/4 teaspoon ground cinnamon
1/2 teaspoon ground cumin
1 teaspoon garlic powder
1/2 teaspoon ground nutmeg
1/2 teaspoon onion powder
1 1/2 teaspoons dried parsley
1 tablespoon granulated sugar substitute
1 1/2 teaspoons sweet paprika
1 teaspoon thyme

Fish Taco Ingredients
4 tilapia fillets
1/8 teaspoon salt
1 tablespoon canola oil (divided)
12 (4.75-inch) corn tortillas, to serve
½ avocado, diced, to serve

Zoodle Slaw Ingredients
1/4 teaspoon ground black pepper
1 cup grated carrots (about 1 medium-large peeled carrot)
1 cup chopped cilantro
1/4 cup fat-free, plain Greek yogurt
1-2 chopped jalapeño peppers (optional)
2 tablespoons low-fat mayonnaise
1/8 teaspoon salt
1/2 cup chopped scallions
2 teaspoons granulated sugar substitute
3 tablespoons white vinegar
2½ cups grated zucchini (from approximately 1 medium-large zucchini)

Directions

Fish Taco Directions
In a small bowl, add all the seasonings for the jerk seasoning. Use a spoon to stir until combine.
Coat the fish in about half the jerk spice mixture, using your fingers to spread the spice mixture onto both sides of each fillet. (The remaining spice mixture can be reserved in a sealed container for up to 1 month and used on pork chops, boneless chicken breasts, or other fish like salmon.) Sprinkle salt over the fish.
In a large nonstick pan, warm ½ tablespoon oil over medium-high heat. Add 2 fillets, cooking until spices are caramelized and the fish easily flakes with a fork, about 5 minutes per side, depending on fillet thickness. Transfer to a plate and repeat sautéing process with remaining 2 fillets.
To assemble the fish tacos: Wrap the corn tortillas in a wet paper towel and heat in the microwave until warm, 30 seconds to 1 minute. Break fish into large pieces with a fork. Place the fish pieces, slaw, and diced avocado onto a platter for easier assembly. Into the center of each tortilla, add fish and top with slaw. Garnish with a few pieces of diced avocado and serve.
Zoodle Slaw Directions
In a large bowl, add the dressing ingredients: yogurt, mayonnaise, vinegar, sugar substitute, pepper, and salt. Whisk together with a fork.
Meanwhile, place a box grater into a medium bowl and grate enough zucchini for 2½ cups and 1 cup carrots.
Prepare the remaining vegetables by chopping the cilantro, scallions, and (optional) jalapeno.
Add all the slaw vegetables into the large bowl with the dressing. Use a spatula or tongs to toss together. Let sit until needed for the fish tacos.
Cooking Tip: Tilapia can be substituted with any 6-ounce white fish fillet; choices include flounder, halibut, cod, and haddock.
Keep it Healthy: Using a majority of plain fat-free or low-fat yogurt along with 1 to 2 tablespoons of mayonnaise like in this recipe is a good way to keep the traditional taste of cole slaw while making it a lot healthier.

Tip: If you're unfamiliar with "zoodles," they are skinny strips of zucchini that can be used in various recipes, including as a sub for pasta noodles. Use a spiralizer or a box grater to create them, or buy them pre-shredded in the grocery store.

Source: American Heart Association
Drug Search
Use the drug search tools to find out if your drugs are covered and which tier they fall under on your plan type.
Find a Doctor
Find a doctor within your Tufts Health Plan Medicare Preferred HMO network or your Tufts Health Plan Senior Care Options network.
Health Library A-Z
Tufts Health Plan has partnered with Healthwise to provide members with access to a library of high-quality content on conditions, treatments and more.