Pico de Gallo Grilled Chicken Salad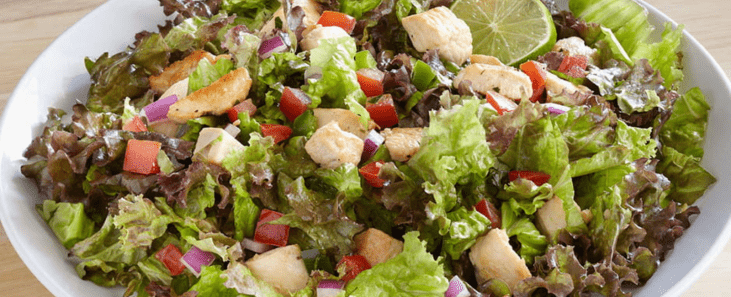 This recipe is fresh, delicious, and simple to make — perfect for warmer weather! 

Ingredients
Servings  6  

For the Chicken Salad
1 lb. boneless, skinless chicken breasts OR chicken tenderloins (whatever is on sale), cut into 1-inch cubes, all visible fat discarded
Non-stick cooking spray
8 cups green leaf or red leaf lettuce (approx. 8-10 leaves), washed, torn into pieces
Cilantro or lemon/lime slices for garnish

For the Pico De Gallo (Fresh Salsa)
1 medium tomato (diced)
1 small onion (finely chopped)
1 seeded, finely chopped jalapeño (can use ½ to reduce spiciness)
juice of 1 lemon
2 tsp. chopped, fresh cilantro
1/2 tsp. garlic (jarred, minced)
1/8 tsp. black pepper

Directions

For the Chicken Salad
Spray a medium skillet with cooking spray. Add chicken to skillet and turn to medium-high heat.
Cook, stirring occasionally, for 10 minutes or until chicken is cooked through. Divide lettuce on to 4 plates, top with chicken.

For the Pico De Gallo (Fresh Salsa)
Combine pico de gallo ingredients in medium bowl and stir.
Spoon over salads and serve. Garnish with cilantro or lemon/lime slices (optional).
Tip: Pico de gallo is super versatile with unlimited uses! Try it as a salad dressing, a dip with low sodium whole-wheat chips/crackers (check the ingredients for the chips/crackers to ensure that they are not made with any hydrogenated oil or tropical oil, such as palm or coconut oil) or fresh vegetables, mixed with brown rice to make "dirty rice," over fish, or even on baked potatoes.

Source: American Heart Association
Drug Search
Use the drug search tools to find out if your drugs are covered and which tier they fall under on your plan type.
Find a Doctor
Find a doctor within your Tufts Health Plan Medicare Preferred HMO network or your Tufts Health Plan Senior Care Options network.
Health Library A-Z
Tufts Health Plan has partnered with Healthwise to provide members with access to a library of high-quality content on conditions, treatments and more.