Chickpea Salad with Tomatoes and Cucumber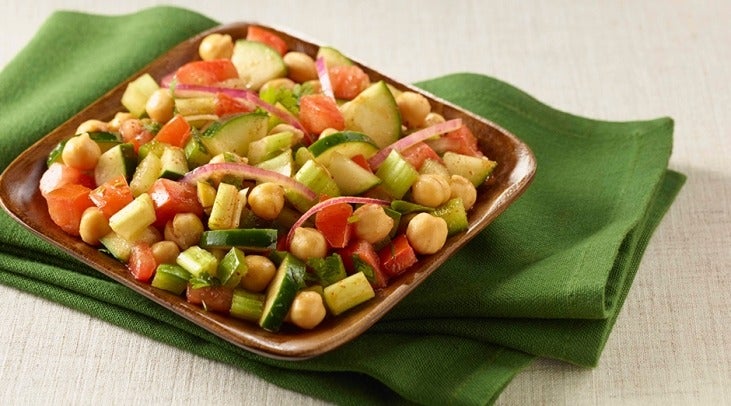 A terrific vegetable side dish (or main dish for a meatless meal) that goes well with just about any main dish you are serving.
Ingredients
4 Servings
15.5 oz canned, no-salt-added or lower-sodium chickpeas (garbanzo beans), drained, rinsed
1 cup chopped, fresh tomatoes (any type)
1 cucumber (chopped)
2 stalk celery (chopped)
1/4 small red or yellow onion (sliced)
1/2 cup chopped, fresh cilantro
1/2 cup chopped, fresh cilantro
1 Tbsp extra virgin olive oil or canola
1/2 Tbsp balsamic vinegar or lemon juice
1/2 teaspoon ground cumin
1/4 teaspoon sweet paprika

Directions
Add all the ingredients into a large bowl.
Stir to combine and serve.
Note: Cilantro stems and celery leaves have a ton of flavor! So go ahead and chop them up for the salad.

Source: American Heart Association
Drug Search
Use the drug search tools to find out if your drugs are covered and which tier they fall under on your plan type.
Find a Doctor
Find a doctor within your Tufts Health Plan Medicare Preferred HMO network or your Tufts Health Plan Senior Care Options network.
Health Library A-Z
Tufts Health Plan has partnered with Healthwise to provide members with access to a library of high-quality content on conditions, treatments and more.