Chicken Mole With Tortilla Strips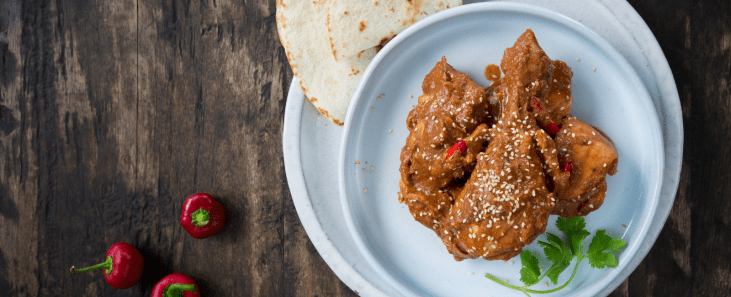 Celebrate Hispanic heritage with this classic Mexican dish. Mole (pronounced MOH-lay) is a rich, dark reddish-brown sauce made from onions, garlic, chilies, and a bit of Mexican chocolate, usually served with poultry. This version uses unsweetened cocoa powder instead of chocolate to reduce the added sugar and saturated fat.
Ingredients
Servings:  8
1 tablespoon olive oil
1 small onion, coarsely chopped
1 medium garlic clove, minced OR 1/2 teaspoon jarred minced garlic
1 4- to 4.5-ounce can diced green chiles, drained
1 to 3 chipotle peppers canned in adobo sauce, plus 1 tablespoon sauce
2 tablespoons unsweetened cocoa powder
1 tablespoon dark brown sugar
1 10.5-ounce can fat-free, low-sodium chicken broth
1 8-ounce can no-salt-added tomato sauce
2 pounds boneless, skinless chicken breasts, all visible fat discarded, cut into bite-size pieces
4 8-inch corn tortillas, cut into 1/2-inch strips
1/2 cup fat-free or low-fat sour cream
2 tablespoons chopped green onions (green part only) (optional)

Directions
Heat the oil in a large stockpot over medium-high heat, swirling to coat the bottom. Cook the onion and garlic for 1 to 2 minutes, stirring occasionally. Stir in the green chiles, chipotle peppers, adobo sauce, cocoa powder, and brown sugar. Stir in the broth and tomato sauce.
Using a hand blender or immersion blender, puree the mixture in the pot. (Alternatively, puree the mixture in a food processer or blender and return to the pot.) Bring to a boil over high heat. Reduce the heat to low and simmer for 5 minutes.
Stir in the chicken. Simmer for 8 minutes, or until the chicken is no longer pink in the center, stirring occasionally.
Meanwhile, preheat the broiler.
Put the tortilla strips on a baking sheet. Broil the tortillas strips about 6 inches from the heat for 2 minutes. Stir. Broil for 1 minute. Stir. Broil for 1 to 2 minutes, or until the strips start to turn crisp and golden. Remove from the broiler. (Some strips will be partly soft.)
Reserve about one-fourth of the tortilla strips for garnish. Put the remaining tortilla strips and 3/4 cup mole in each bowl. Top with the sour cream, green onions, and reserved tortilla strips.
Tip: Chipotle peppers are dried, smoked jalapeños, so expect a little heat. You probably won't use an entire can for any single recipe, but the leftovers freeze nicely. Spread the peppers with sauce in a thin layer on a medium plate covered with cooking parchment or wax paper, then freeze them, uncovered, for about 2 hours, or just until firm. Transfer the peppers to an airtight container or a resealable plastic freezer bag and freeze.

Source: American Heart Association
Drug Search
Use the drug search tools to find out if your drugs are covered and which tier they fall under on your plan type.
Find a Doctor
Find a doctor within your Tufts Health Plan Medicare Preferred HMO network or your Tufts Health Plan Senior Care Options network.
Health Library A-Z
Tufts Health Plan has partnered with Healthwise to provide members with access to a library of high-quality content on conditions, treatments and more.