Slow Cooker Hearty Chicken Noodle Soup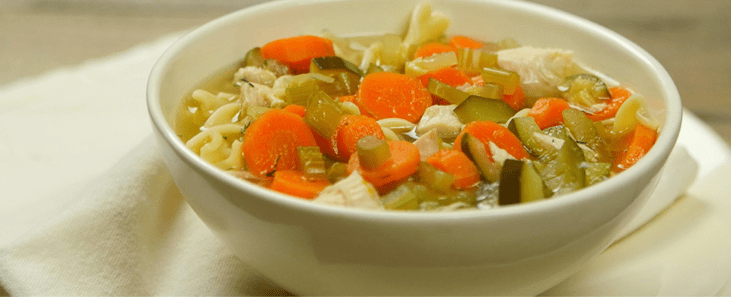 You don't have to spend hours in the kitchen for the rich flavor of homemade chicken soup. Just add your ingredients to the slow cooker, then set it and forget it!

Ingredients
Servings  8
2 pounds boneless, skinless chicken breasts, all visible fat discarded
3 cups sliced carrots (around 1 pound)
3 cups chopped celery
2 medium zucchini, diced
1 14.5-ounce can fat-free, low-sodium chicken broth
6 cups water
3 bay leaves
2 teaspoons dried Italian seasoning
1 teaspoon garlic powder
1/2 teaspoon pepper
1/4 teaspoon salt
1 cup chopped fresh dillweed OR 2 tablespoons dried dillweed, crumbled
12 ounces dried whole-grain egg noodles

Directions
Put the chicken in a large slow cooker. Top with the carrots, celery, zucchini, broth, water, bay leaves, Italian seasoning, garlic powder, pepper and salt. 
Cook, covered, on low for 8 hours or on high for 4 hours.
Transfer the chicken to a large cutting board. Discard the bay leaves. Stir in the dill. Turn off the heat. Let the soup stand, covered, to keep warm. 
Meanwhile, prepare the egg noodles using the package directions. 
When the chicken is cool enough to handle, cut it into bite-size pieces. Stir it into the soup.
Place the noodles in serving bowls. Ladle the soup over the noodles. 

Tip: Instead of salting the cooking water when you prepare noodles and pasta, try flavoring it with dried Italian seasoning, other herbs, salt-free blends, a squeeze of fresh lemon juice, or a bay leaf (be sure to discard the bay leaf before serving the food).

Tip: To store leftovers, keep the soup and noodles separate. Otherwise, the noodles will soak up all the broth.

Source: American Heart Association
 
Drug Search
Use the drug search tools to find out if your drugs are covered and which tier they fall under on your plan type.
Find a Doctor
Find a doctor within your Tufts Health Plan Medicare Preferred HMO network or your Tufts Health Plan Senior Care Options network.
Health Library A-Z
Tufts Health Plan has partnered with Healthwise to provide members with access to a library of high-quality content on conditions, treatments and more.