Slow Cooker Vegetable Turkey Soup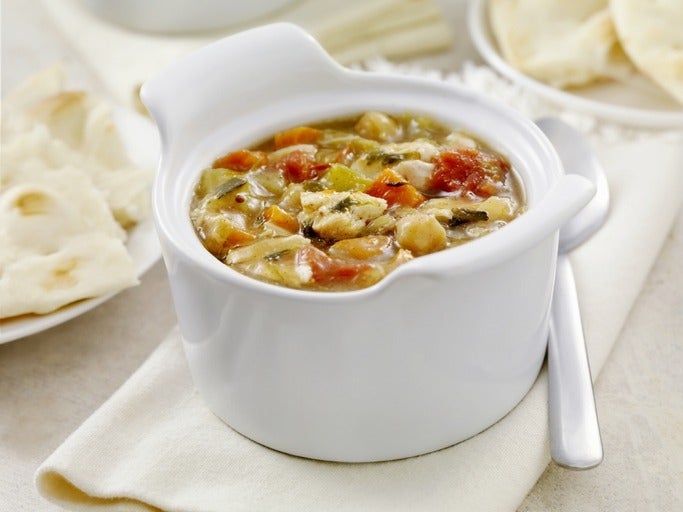 Garden vegetables and beans add color and flavor to this hearty comfort food. Prepare the ingredients in the morning or the night before, let them slow cook all day, and at dinnertime all that's left to do is ladle the soup into bowls.
Ingredients
6 Servings | Serving Size 2 cups
1 pound ground skinless turkey breast
3 large carrots, sliced crosswise into rounds
2 medium zucchini, halved lengthwise and sliced
1 small onion, chopped
1 28-ounce can no-salt-added tomato sauce
1 15.5-ounce can no-salt-added cannellini beans, rinsed and drained
2 medium garlic cloves, minced
1 tablespoon dried Italian seasoning, crumbled
1/2 teaspoon salt
1/2 teaspoon pepper
4 cups fat-free, low-sodium chicken broth
 
Directions
Put all the ingredients in a slow cooker, stirring to combine and breaking up the turkey.
Cook, covered, on low for 8 hours, or until the turkey is no longer pink.
Tip: To make ahead and freeze, in a large bowl, stir together all the ingredients except the broth. Transfer to a one-gallon resealable plastic freezer container or bag. If using a bag, seal tightly. Place the container or bag flat in the freezer. To cook, thaw the container overnight in the refrigerator. Pour the soup into a slow cooker. Pour in the broth, stirring to combine. Cook as directed.

Source: American Heart Association
Drug Search
Use the drug search tools to find out if your drugs are covered and which tier they fall under on your plan type.
Find a Doctor
Find a doctor within your Tufts Health Plan Medicare Preferred HMO network or your Tufts Health Plan Senior Care Options network.
Health Library A-Z
Tufts Health Plan has partnered with Healthwise to provide members with access to a library of high-quality content on conditions, treatments and more.