Sweet Potato Nachos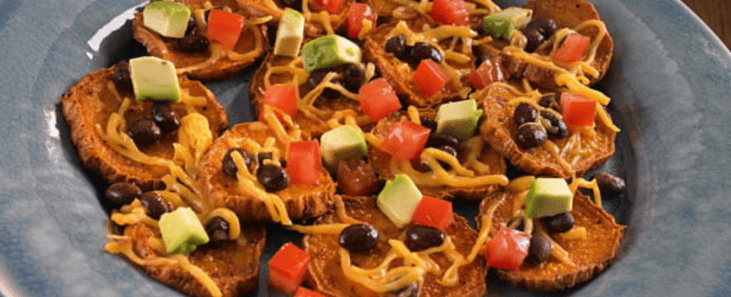 Seasoned sweet potatoes make a delicious base for traditional nacho toppings. Try them for an afternoon snack or game day appetizer.
Ingredients
Servings  6  
Cooking spray
3 medium sweet potatoes (about 1 pound), peeled and thinly sliced into 1/4-inch thick rounds
1 tablespoon olive oil
1 1/2 teaspoons paprika
1 teaspoon chili powder
1 teaspoon garlic powder
1/3 cup no-salt-added black beans, rinsed and drained
1/3 cup low-fat shredded cheddar cheese
1/3 cup chopped tomato (1 medium Italian plum/Roma tomato) OR 1/3 cup canned no-salt-added diced tomatoes, rinsed and drained
1/3 cup chopped avocado

Directions
Preheat the oven to 425°F. Line two medium baking pans with aluminum foil. Lightly spray the foil with cooking spray.
In a large bowl, toss together the sweet potatoes, oil, paprika, chili powder, and garlic powder. Spread the sweet potato mixture in a single layer in the baking pans. 
Bake for 10 minutes. Using a spatula, turn over the sweet potatoes. Bake for 5 to 10 minutes, or until crisp. 
Remove the pans from the oven. Sprinkle the beans and cheddar over the sweet potatoes. Bake for 2 minutes, or until the cheddar melts.
Sprinkle with the tomato and avocado.

Source: American Heart Association
Drug Search
Use the drug search tools to find out if your drugs are covered and which tier they fall under on your plan type.
Find a Doctor
Find a doctor within your Tufts Health Plan Medicare Preferred HMO network or your Tufts Health Plan Senior Care Options network.
Health Library A-Z
Tufts Health Plan has partnered with Healthwise to provide members with access to a library of high-quality content on conditions, treatments and more.