White Bean and Quinoa Burgers with Avocado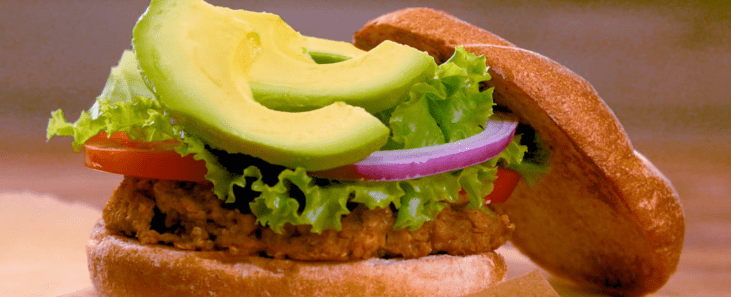 These vegetarian burgers offer protein from quinoa and beans without falling short on flavor. They're a perfect choice for meatless Mondays. Having a meatless meal at least once a week is not only easier on the wallet, but it's healthier too. 

Ingredients
Servings  5
Cooking spray
1 15.5-ounce can no-salt-added cannellini beans, rinsed and drained
1 medium avocado, halved, and 1/2 medium avocado, cut into 5 slices, divided use
1 large egg
1 teaspoon garlic powder
1 teaspoon smoked paprika OR 1 teaspoon sweet paprika
1 teaspoon salt-free chili powder
1/2 teaspoon ground cumin
1/8 teaspoon pepper (freshly ground preferred)
1 cup cooked quinoa
1/4 cup fat-free or low-fat mayonnaise
1 1/2 teaspoons hot chili sauce (sriracha preferred)
5 whole-wheat hamburger buns (lowest sodium available)
2 medium tomatoes, sliced
10 lettuce leaves
10 slices red onion (optional)

Directions
Preheat the oven to 375°F. Line a baking sheet with aluminum foil. Lightly spray the foil with cooking spray.
Put the beans in a medium bowl. Using a potato masher, mash them well. Add one half of the whole avocado. Mash well. Add the egg, garlic powder, paprika, chili powder, cumin, and pepper, stirring well to combine.
Dice the remaining half of the whole avocado. Gently fold it and the quinoa into the bean mixture.
Using your hands, form the bean mixture into five patties. Place the patties on the baking sheet. Bake for 30 minutes, or until browned.
Meanwhile, in a small bowl, whisk together the mayonnaise and chili sauce.
Toast the buns.
Place the burger patties on the bottom buns. Spread the patties with the mayo mixture. Top with, in order, the tomato slices, lettuce, onion slices, and the remaining avocado slices. Put the top buns on the burgers.

Tip: One cup of uncooked quinoa will make 4 cups of cooked quinoa. Use the remaining 3 cups of cooked quinoa for a side dish or freeze it in 1-cup portions to use when you make this recipe again.

Tip: In a hurry? You can cook these quinoa burgers on the stovetop. In a large nonstick skillet, heat 2 tablespoons canola or corn oil over medium-high heat, swirling to coat the bottom. Cook the patties for 3 to 4 minutes on each side, or until browned. (The burgers tend to be more fragile when cooked on the stovetop, so baking them is preferred.)

Source: American Heart Association
Drug Search
Use the drug search tools to find out if your drugs are covered and which tier they fall under on your plan type.
Find a Doctor
Find a doctor within your Tufts Health Plan Medicare Preferred HMO network or your Tufts Health Plan Senior Care Options network.
Health Library A-Z
Tufts Health Plan has partnered with Healthwise to provide members with access to a library of high-quality content on conditions, treatments and more.