Should Everyone Have A Diabetes Diet?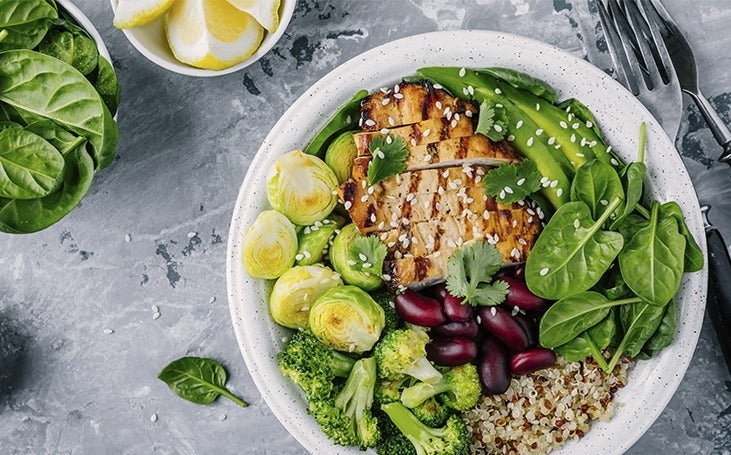 What is a diabetes diet?
A diabetes diet features regular meal times and includes foods high in nutrients and low in fat and calories. Having a healthy eating plan helps you control your blood sugar, manage your weight, and reduce the risk factors for high blood pressure and heart disease. Whether you currently have diabetes or are just looking to eat healthy as you age, a diabetes diet is good for everyone.
Fill your plate with healthy options
Fill half of your plate with vegetables such as broccoli, green beans, carrots, and cauliflower.
Stay away from "simple" grains like pasta and white rice. Choose whole grains like brown rice, quinoa, or farro. Quinoa is especially good because it's also high in protein.
Limit high-fat meats. Skinless chicken, turkey, and leaner cuts of beef and pork are healthier, delicious options.
For beverages, stay away from high-sugar sodas and juices. Opt for low fat milk or water.
What is the right portion size?
It can be difficult to determine healthy portion sizes. How much is a tablespoon of peanut butter or a cup of yogurt? An easy way to determine general portion sizes is to use your hand as a guide:
One teaspoon is about the size of your finger tip
One tablespoon is about the size of your thumb
One cup is about the size of your fist
½ cup is approximately a handful
5 ounces (a suggested serving size of meat) is about the size of your palm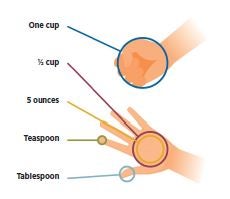 How to dine out and stick to your goals
Many people overeat or make poor food decisions when they dine at restaurants. It's okay to splurge once in a while, but consider your food choices and keep your health goals in mind:
If possible, check out the menu on the restaurant's website ahead of time. They often have nutrition information available to help you make healthy decisions.
Choose items that are grilled, baked, or steamed instead of fried.
Make your main meal an appetizer salad with a low calorie dressing, and share your entrée with a family member or friend.
Ask the server to put half of your entrée in a to-go container before serving your food. So you won't be tempted to over-eat.
Order salad dressings or sauces on the side so you can control the amount on your food.
Need help creating a healthy eating plan?
Tufts Health Plan Medicare Advantage HMO members can use their plan to develop a healthy eating plan, lose weight, and stay fit!
Get all the details on how to save on weight loss programs and other Preferred Extras! 
This information is not a complete description of benefits. Call 1-800-701-9000 (TTY: 711) for more in­formation. Discounts and services included in the Preferred Extras program are not plan benefits and are not subject to the Medicare appeals process.
Drug Search
Use the drug search tools to find out if your drugs are covered and which tier they fall under on your plan type.
Find a Doctor
Find a doctor within your Tufts Health Plan Medicare Preferred HMO network or your Tufts Health Plan Senior Care Options network.
Health Library A-Z
Tufts Health Plan has partnered with Healthwise to provide members with access to a library of high-quality content on conditions, treatments and more.