Zucchini-Parmesan Pancakes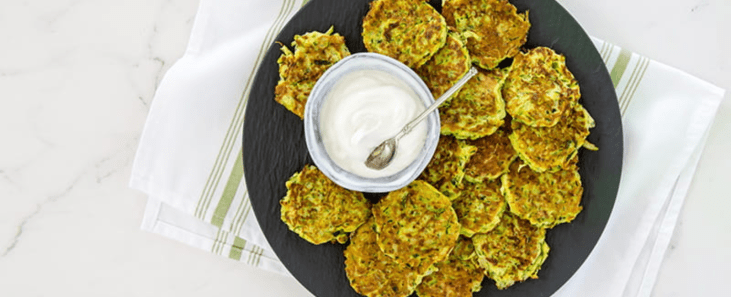 These easy-to-make summery mini pancakes are a delicious savory snack or side dish. Enjoy traditional summer squash in a nontraditional way.
Ingredients
Servings  4
2 medium unpeeled zucchinis, grated with a box grater (about 3 cups)
1 small shallot, minced (about 1/4 cup)
2 large eggs, lightly beaten using a fork
1/2 cup all-purpose flour
1/4 cup shredded Parmesan cheese
1 1/2 teaspoons chopped, fresh thyme
1 teaspoon baking powder
1 teaspoon black pepper
1 teaspoon canola or corn oil and 1 teaspoon canola or corn oil, divided use
1/4 cup fat-free, plain Greek yogurt

Directions
In a large bowl, stir together the zucchini, shallot, eggs, flour, Parmesan, thyme, baking powder, and pepper until well combined.
In a large nonstick skillet, heat 1 teaspoon oil over medium heat, swirling to coat the skillet. Place eight 1/8-cup mounds of the zucchini mixture in the skillet. Using the back of the measuring cup or a spoon, gently press down on the mounds, spreading them to make pancakes about 1/2-inch thick and 2 1/2 inches in diameter. Cook for 3 to 4 minutes on each side, or until golden brown all over. Transfer the pancakes to a plate. Cover to keep warm. Repeat with the remaining 1 teaspoon oil and zucchini mixture.
Let the pancakes cool for 5 minutes. Just before serving, top each pancake with a dollop of the yogurt. 

Source: American Heart Association
Drug Search
Use the drug search tools to find out if your drugs are covered and which tier they fall under on your plan type.
Find a Doctor
Find a doctor within your Tufts Health Plan Medicare Preferred HMO network or your Tufts Health Plan Senior Care Options network.
Health Library A-Z
Tufts Health Plan has partnered with Healthwise to provide members with access to a library of high-quality content on conditions, treatments and more.