Tips for managing stress and loneliness during the holiday season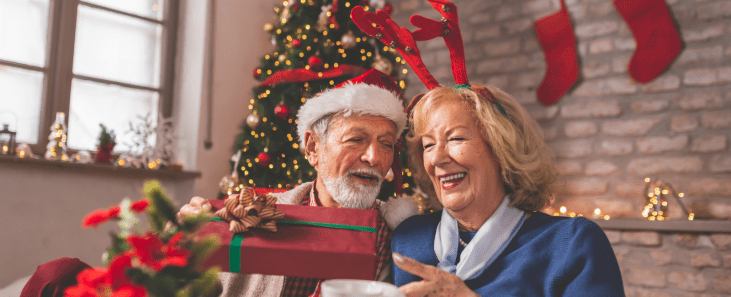 The holidays are often thought of as a time of celebration and cheer. But for some, the holiday 
season causes stress or leads to feelings of isolation or loneliness. These tips can help you manage stress 
and anxiety during this time of the year.
1. Talk About It 
Make a list of people in your life that you can talk to in times of distress. You can also schedule time each week to make sure you're regularly checking in with friends, family members, neighbors, and other loved ones.
Additionally, you may wish to talk to a therapist, a counselor in your religious community, or an in-person or online support group.
2. Keep Busy 
Keeping busy can help combat loneliness — especially if your plans involve others. Here are some ways to keep busy while staying connected:
Take advantage of technology – If you're unable to leave home or your loved ones live far away, technology like video calling can help you stay in touch. You can cook or eat dinner together, read stories to young grandchildren, and even play games using mobile apps. 
Attend local events and activities – Check the websites of your local community center or public library to see what activities are happening. If you're not tech-savvy, an online or in-person class is a great way to learn how to use video technology or social media.
Volunteer – Helping others can lift your spirits and even introduce you to new people in your community.
3. Plan Ahead 
Between shopping, baking, visiting loved ones, and keeping up with your usual responsibilities, there's a lot going on during this time of the year. Here are some tips to keep from getting overwhelmed:
Set aside specific days for different holiday activities (like decorating or wrapping gifts)
Create a budget so you do not spend more than you wish to on gifts or food
Plan a menu and make a grocery list before heading to the store
Say "no" when you need to — you don't have to participate in every activity this holiday season
4. Unwind with Intention 
The busyness of the holidays can make it difficult to stick to your usual routines, but it's important to 
make time for yourself, even if it's just 15 minutes at a time. You can:
Go for a walk.
Meditate or do yoga. (As a plan member, you receive a discount on online yoga and meditation classes through Ompractice. Visit thpmp.org/extras for more information.)
Read a book.
Listen to soothing music.
Sit outside and observe your surroundings.
Get a massage. (As a plan member, you receive a discount on massage therapy and acupuncture. Visit thpmp.org/extras for more information.)
5. Take Care of Yourself 
Remembering to care for yourself physically may help you feel better mentally: 
Nourish your body with healthy and well-balanced meals –  As a plan member, you receive discounts on meal delivery with Independent Living Systems as well as nutritional counseling with CarePartners of Connecticut-registered dietitians and licensed nutritionists. Visit thpmp.org/extras for more information.
Get enough sleep each night — 7 to 9 hours
Move your body — 30 minutes a day, 5 days a week, at an intensity equivalent to a brisk walk. Your Wellness Allowance of $150 per calendar year ($350 for Saver Rx HMO, Smart Saver Rx HMO, and Access PPO members)* can be used toward the cost of fitness classes and membership at a qualified health club or fitness facility. See your Evidence of Coverage at thpmp.org/documents for more information.
6. Seek Professional Help if You Need it 
Feeling sad or stressed around the holidays is normal for a lot of people — especially if you've lost a loved one or cannot be with your loved ones.
But, if your sadness or anxiety causes physical ailments or prevents you from eating, sleeping, or keeping up with routine chores, speak to your health care provider or a mental health professional for additional help.
Members have access to AbleTo, which provides access to virtual mental health programs that can help you manage depression, stress, anxiety, and more. To learn more, visit AbleTo.com/tuftshealthplan or call 1-833-522-5386 (representatives are available 9 a.m.–8 p.m. Mon–Fri).**
*$150 (or $350 for members of our Smart Saver, Saver Rx, and Access PPO plans) is the total reimbursement amount each year (Jan. 1–Dec. 31) whether used for health clubs, fitness classes, nutritional counseling, or wellness programs.
** AbleTo is covered through your outpatient mental health benefits and outpatient mental health copays will apply to each weekly therapy session.
Drug Search
Use the drug search tools to find out if your drugs are covered and which tier they fall under on your plan type.
Find a Doctor
Find a doctor within your Tufts Health Plan Medicare Preferred HMO network or your Tufts Health Plan Senior Care Options network.
Health Library A-Z
Tufts Health Plan has partnered with Healthwise to provide members with access to a library of high-quality content on conditions, treatments and more.